Detox Support Supplement
‍
Supports Natural Body Functions
‍
Supports A Healthy Digestive System
‍
15 Day Digestive Cleanse
Order Now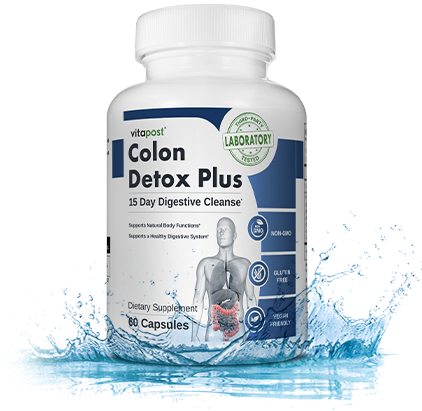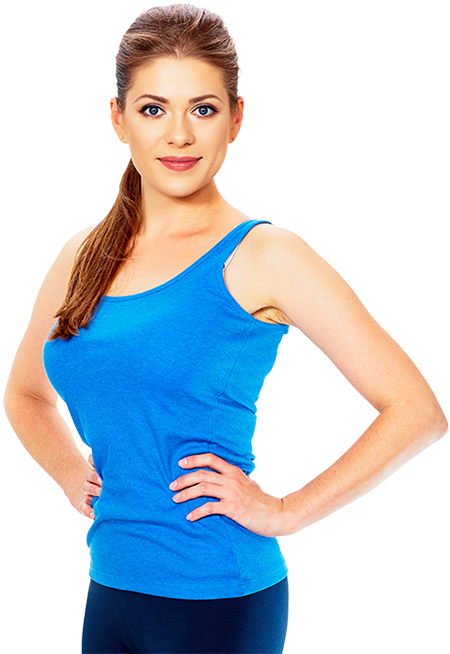 Introducing Colon Detox Plus
VitaPost Colon Detox Plus is a 15-day course designed specifically to help support a healthy digestive system pass toxins and buildup. The Colon Detox Plus formula features calcium and both probiotics and prebiotics help to support healthy gut flora.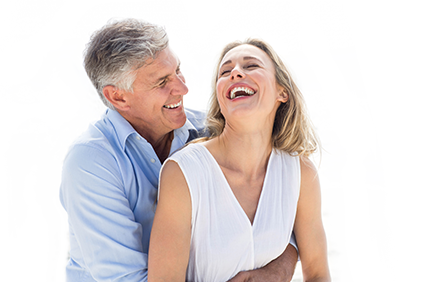 Ingredients featured in :

‍
High-Quality Ingredients
VitaPost Colon Detox Plus includes natural ingredients and extracts that can support your colon's cleansing process, giving you a kick-start for your detox programme.
‍
Supports a Healthy Digestive System
The combination of ingredients in Colon Detox Plus work together synergistically to support a healthy digestive system.
‍
Made in the US
VitaPost Colon Detox Plus is made in the US within an FDA registered facility that follows GMP guidelines. Ingredients in the formula are both domestic and imported.
Ingredients in Colon Detox Plus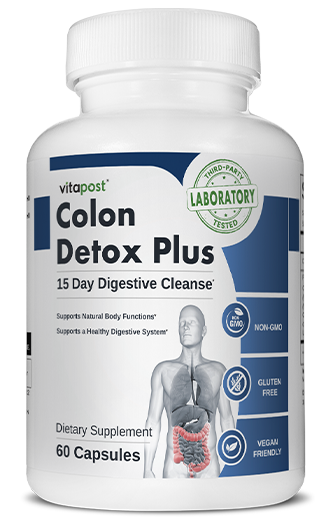 ‍
‍
Alfalfa Leaf
Studies have shown alfalfa leaf extract to support various bodily functions, but in particular it can provide support for a healthy digestive system. Some studies suggest that alfalfa leaf may also help to support a healthy immune system.1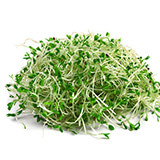 Alfalfa Leaf
‍
‍
Psyllium
Psyllium, or more scientifically 'Plantago psyllium', is a form of plant fiber that is commonly used in support of intestinal health. It is also a 'prebiotic', supporting probiotic bacteria. Psyllium supports intestinal hydration. 2,3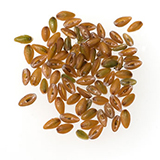 Psyllium
‍
‍
Lactobacillus Acidophilus
Lactobacillus acidophilus is a probiotic bacterium that can help support natural levels of good bacteria in the gut lining and digestive system. This is especially useful if you have been looking for a supplement to help support general health.4,5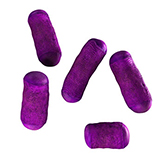 Lactobacillus Acidophilus
‍
‍
Rhubarb
Rhubarb is commonly used in cooking for its tart, fruity flavor. Aside from its popular taste, it has long been used in Chinese wellness practices to provide support for gastrointestinal health & motility. Rhubarb can support a healthy pancreas, which in turn supports the intestines. 6,7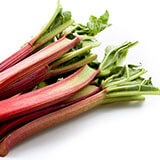 Rhubarb
‍
‍
Gentian
Gentian is an herb that is commonly used to support gastrointestinal health and the digestive system. Studies also show that Gentian may provide a number of other potential benefits, including antioxidant properties.8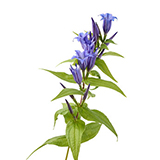 Gentian
‍
‍
Aloe Vera
The latex found just under the skin of Aloe vera is commonly used to provide natural assistance with comfort in-between bowel movements. Aloe vera latex may help to assist the natural functions and movements of the digestive organs and may also support stool consistency.9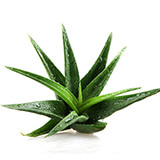 Aloe Vera
‍
‍
Cascara Sagrada
Cascara is an herbal ingredient that is traditionally consumed for its ability to provide natural support for digestive function. Cascara is closely related to Buckthorn.10-12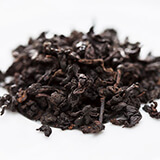 Cascara Sagrada
‍
‍
Buckthorn
Buckthorn bark, from the Alder buckthorn plant, is dried and heated to make it useful as a supplement. It is broadly recognised as a botanical that supports digestive function.13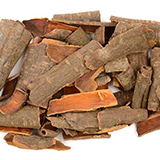 Buckthorn
Testimonials from our customers
The results speak for themselves. Join the thousands of others who have taken control of their health through colon detoxing.
Already a customer? Write your review now ‍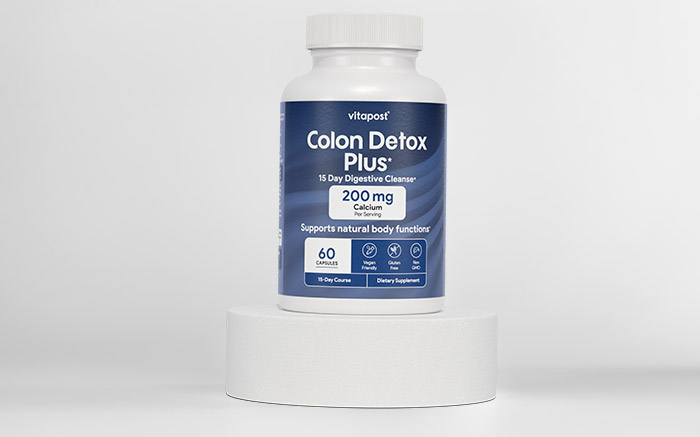 ‍
Great product and works with me -
John M.
I have tried many products but no luck, when I try colon detox plus I have seen the difference, big difference, thanks
‍ Yes, I would recommend this product
‍
This product is great, cleans your bowels thoroughly -
Earl Presley
This product gives you a more sense of urgency. I can feel it working much sooner than those more commercial brands.
‍ Yes, I would recommend this product
‍
Husband loves it!! -
Candice
My husband convinced me to do a detox with him, I can't believe what game out! Great product, happy to recommend as I will be using again.
‍ Yes, I would recommend this product
Click here to read all reviews.
‍
‍
Unlocking the Benefits of Colon Detox Plus
‍Supports Natural Body Functions
Formulated with a blend of 11 herbs, VitaPost Colon Detox Plus works by kick-starting your detox and assisting smooth bowel movements. It supports your body's natural process of cleansing toxins and other hidden nasties from your system.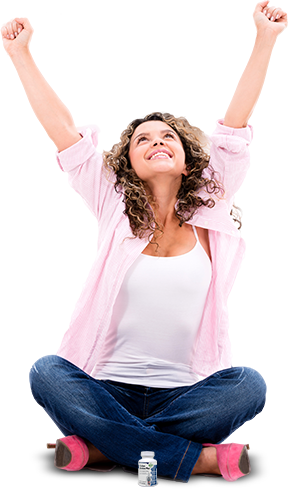 ‍Supports A Healthy Digestive System
An irresponsible diet can disrupt your digestive system making it hard to achieve optimum health. VitaPost Colon Detox Plus supports your body as it flushes the accumulations that start to pile up and restrict the absorption of essential vitamins and minerals.
How To Take Colon Detox Plus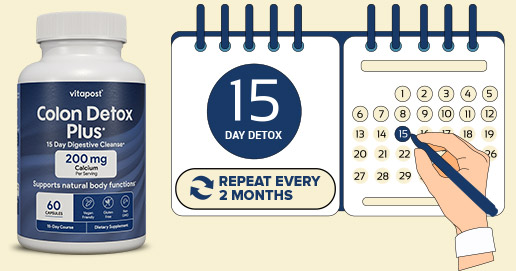 Recommended Usage
Colon Detox Plus is a 15-day detox, with the recommended dose of 2 capsules daily, preferably in the morning with your first meal.
If well tolerated, take 2 capsules in the morning with your first meal and 2 in the evening with your last meal, daily, until capsules are gone. Discontinue if not well tolerated.
Colon Detox Plus works by itself, but it is recommended to drink at least 8 cups of water daily while detoxing.
Repeating Your Detox
Colon Detox Plus should be taken for only 15-days at a time (1 detox). However, it is highly recommended that you repeat the detox every 2 months for lasting results.
Think of detoxing as spring-cleaning your digestive system of cobwebs, toxins and unwanted nasties. After a while these start to appear again, so future detoxing is required.
Colon Detoxing in the Media
Several clinics and healthcare professionals have spoken of the benefits that detox cleansing can have on the body: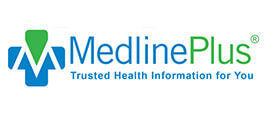 "Some evidence suggests that taking blond psyllium by mouth, alone or as a combination product, can relieve constipation and improve stool consistency."
Published by Medline, January 2018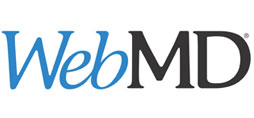 "According to some alternative health advocates, just as you routinely shampoo your hair or scrub your floor, you should be regularly cleaning your colon as well."
Published by Natural Medicines Comprehensive Database Consumer Version, WebMD, October 2010

"Colon cleansing is normally used as preparation for medical procedures such as colonoscopy. However, some alternative medicine practitioners also offer colon cleansing for other purposes, such as detoxification."
Published by Mayo Clinic, March 2015
FAQs
‍Taking Colon Detox Plus
Do I need a prescription for Colon Detox Plus?
Colon Detox Plus is available for purchase without a prescription.
How do I use Colon Detox Plus?
Take two (2) capsules in the morning with first meal. If well tolerated, take two (2) capsules with first meal and two (2) capsules with last meal daily, until capsules are gone. Discontinue use if not well tolerated.
Colon Detox Plus is intended for use in conjunction with a healthy diet and exercise program, as these factors can influence your detox experience. Consult with a physician prior to use if you have any medical conditions. Do not use if pregnant or lactating.
I don't enjoy swallowing capsules. Do I have any other options?
While the Colon Detox Plus capsule can be taken apart and absorbed in your favorite drink or food, we would not recommend this due to the taste. As this capsule contains compact powder, we would also not recommend splitting the capsule in half and attempting to swallow the halves.
How long does it take for Colon Detox Plus to work?
Colon Detox Plus tends to take effect relatively quickly by some of our customers. Individual results may vary.
Will I get rid of my gastro problems using Colon Detox Plus?
Colon Detox Plus is designed to support your body's normal cleansing process, and is not intended to treat, cure or prevent any disease. If you have any gastro problems you should not use Colon Detox Plus. As gastro problems can be a sign of a more serious condition, you should consult a physician.
‍Shipping, Sizes and Quantity
What are my delivery options?
We have global distribution to 20 countries worldwide. This list of countries is available in the first step of checkout.
Orders are processed immediately and shipping depends on which option you choose:
| Description | Price |
| --- | --- |
| USPS - Standard (3-5 business days) | $4.95 |
| USPS - Second Day (2-3 business days) | $9.95 |
| UPS/DHL/USPS – Tracking International (12-15 business days) | $9.95 |
How many capsules are in 1 bottle of Colon Detox Plus?
Colon Detox Plus contains 60 capsules in every bottle. This is equivalent to a 15-day detox course.
How big are the capsules?
The capsules are a 1 size, which is less than an inch long (19mm). This size is slightly smaller than most capsules and most people consider this size easy to swallow.
Can I return my unopened bottles of Colon Detox Plus?
Yes, we stand behind this supplement 100%, so we're more than happy for you to return your unopened bottles of Colon Detox Plus within 5 months of purchase.
‍Ingredients and Restricted Diets
Is Colon Detox Plus free of common allergens?
While the formula does not contain common allergens, this product is manufactured and packaged in a facility which may also process milk, soy, wheat, egg, peanuts, tree nuts, fish and crustacean shellfish.
For uncommon allergens, please check the ingredients list.
Is Colon Detox Plus a vegan product?
Yes, Colon Detox Plus is a vegan product.
‍Certification and Manufacturing
Are these certified by the FDA?
The FDA does not certify dietary supplement products, such as Colon Detox Plus. However, Colon Detox Plus is manufactured in an FDA registered facility that follows GMP (Good Manufacturing Practice) guidelines.
Where is it manufactured?
Colon Detox Plus is manufactured in the US from quality imported and domestic ingredients.
Add Colon Detox Plus to your life and release its benefits today
Limited time offer,
buy 3 and get 1 free! ‍